🖍🖍🖍 The Berks County Intermediate Unit (BCIU) anticipates continuing to operate a Pre-K Counts classroom within the Conrad Weiser School District at Bethany Children's Home for the 2023-2024 school year. The BCIU is currently gathering information to secure grant funding as part of the Pre-K Counts state 5-year rebid process for July 1, 2023 – June 30, 2028. At this stage of the application process, the BCIU is gathering family interest and eligibility for the Pre-K Counts Program. Should your family be interested in this program, please complete the survey
https://forms.gle/K6oumFVcsKg3SA3t6
, by Friday, April 7, 2023. #PreKcounts #WeAreWeiser
🚚🌮🍟🚚 Food Trucks are HERE! Come get dinner and visit our career/job fair from 3p-6p! 3️⃣0️⃣➕ businesses from Berks and beyond! 🤍Mental Health vendors on hand and the multicultural festival!🤍 Did we mention we have a pony?!🐴 #FoodTrucks #CommunityEvent #WeAreWeiser
👉LAST CHANCE! We have 2 great trips available for summers 2024 & 2025. 🌎✈️They're going to be amazing adventures—and we want your child to travel with us! Visit
https://bit.ly/420ERKc
and make sure you register for TONIGHT'S 6:30 pm virtual meeting! #WeAreWeiser #EFTours
🏢🏫🏢 Join us for the Job/Career/Multicultural/Mental Health Fair on 3/29 from 3-6 pm at the HS/District Office! ⭐Job/Career Opportunities⭐Mental Health Resources⭐Multicultural Event⭐ 🐴Miniature Horses and Food Trucks🍽 Stop by for a fun and informational night! #WeAreWeiser
📅📱📅 All CWASD events are on the APP! Find the event and download it directly to your phone calendar! Special school/building events, days off, early dismissals...ALL are in the events area of the APP! Follow these directions and never miss another CWASD event! #WeAreWeiser
⭐️⭐️MARCH 2023 CAREER INTERNSHIP PROGRAM HIGHLIGHTS⭐️⭐️This Spring, CWHS is excited have 37 students interning in a variety of fields. These seniors took the initiative to learn hands-on in their career field. They have made great connections in the community and are wonderful representatives of our school. Benjamin Elliott is at South Heidelberg Township Police Department🚓👮‍♂️; Bryson Gingrich is at Moyer Nissan of Wernersville🏎🚙; Lydia Bashore is at Western Berks Ambulance Association🚑; Reghan Hamilton is at The Hair Studio✂️👩‍🦰💅; and Caitlin Oliviero is at Larkin Veterinary Center🐕🐈‍⬛. #WeAreWeiser #CareerReadyPA #internships
🎨🖼🎨 K-12 Art Show on 4/26 from 6-8 pm! Performances by the MS/HS jazz band and Choraleers 🎶 The Community Food Service class will provide refreshments ☺ Download this event to your phone from our APP! Thank you for supporting the arts at Conrad Weiser! 💙🤍 #WeAreWeiser
📬📌The April Financial Aid Newsletter is pictured here and can be found under Counseling on the High School webpage and on Schoology. You have to apply to win!!!🤩🎉 #WeAreWeiser
Congratulations to all CWHS students who participated in the Reading Berks Science and Engineering Fair and placed in their categories!🔬🧫🧪🩺⚙️💡 #WeAreWeiser
🍀🍀🍀 All school offices will be closing at 12 noon on Friday, March 17th. We will reopen our offices Monday, March 20th for teacher in-service. Students return on Tuesday, March 21st. Have a great weekend! #WeAreWeiser
⚠🚨⚠ Important safety information was sent via email today to parents and staff. CWASD uses the Standard Response Protocol for threats to our safety. The action and directive terms are attached. We will communicate with our community when we practice drills and in the event of a real threat. CWASD continues to provide our staff and students with the best educational experience in the safest environment.
https://iloveuguys.org/The-Standard-Response-Protocol.html
#WeAreWeiser
CWHS Spring Parent-Teacher Conferences: Conferences scheduled from 3-4 pm will be held via Zoom and conferences scheduled between 4-6 pm will be held in-person at CWHS Sign up through this link:
https://signup.com/group/26470794705693602
CONGRATULATIONS to our February 2023 Students of the Month!! 🤩Way to go, Scouts!! 👏👏👏 #WeAreWeiser
🏀🏀📣Come out tomorrow night (March 3rd, 7pm) to cheer on your favorite CWHS faculty members and seniors at our Annual Faculty VS. Seniors Basketball Game. All proceeds go to Four Diamonds.🔹❤️ #WeAreWeiser
🏢⚒👩‍⚕️🐎🧘‍♂️ March 29th is the 2nd annual Job-Career Fair! 12:40-2:40 CWHS Juniors & Seniors ONLY 3-6 Open to ALL *30+ employers *Mental health personnel on-site *CW Multicultural Club with food and activities All are welcome! ❓610-693-8542 X6220 #CareerReady #WeAreWeiser
⚠Prank phone call at Wilson SD⚠ Please read the attached. #WeAreWeiser
🏆🥳The CWHS Renaissance Committee is proud to honor the January Staffulty of the month, Mel Byma! Mel is an English teacher at the HS and is also in charge of the costumes for the high school musical. She is known as always being there for her students. Congratulations, Mel!
CONGRATULATIONS to our January Students of the Month! ⭐️🏆🎉Nice work, Scouts!👏👏👏 #WeAreWeiser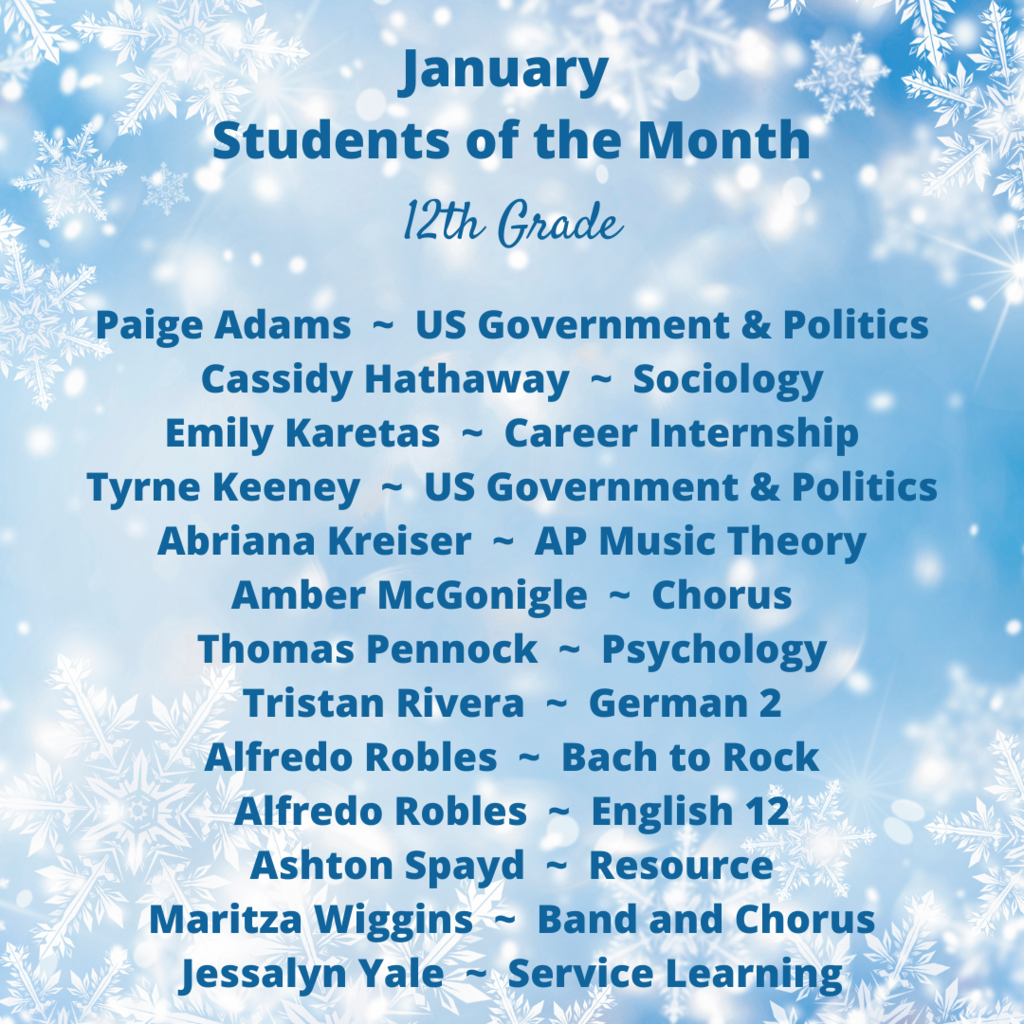 Download the App here: apple.co/3CFRVuv Visit the website here: safe2saypa.org #safe2saysomething #WeAreWeiser
Next Monday, January 30th come out to CWHS at 7 PM and meet your student's teachers for the spring semester. #WeAreWeiser